Forbidden Authors
Melanie Baxter
Elizabeth Black
Elizabeth Bryars-Lamey
Darcy Campbell
Boz Corcoran
Jessica Damien
Katie Daniels
Christal Ervin
Jacques Gerard
Crymsyn Hart
B. H. Joyeaux
Talia Kelley
T.J. Killian
Taylor Kincaid
Kai Leah
Marina de Luca
Dee Marr
Sandra Marshall
Angel Martinez
Cassidy McKay
R.B. Michaels
Chris Neeley
Tara Nichols
Vic Ortloff
Lillith Payne
Anastasia Rabiyah
Tristan Rybeck
Cricket Sawyer
A.H. Scott
Dixie Spirt
Rachel D. Thompson
Shermaine Williams
Trinity Wolf
Kevin B. Wright
Find these and More
Thursday, February 28, 2008
Why I Write...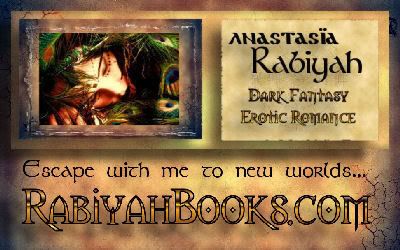 It all began when I was eleven years old. Okay, maybe even before then. I've always had a massive imagination, a place where other characters lead out their daily lives and adventures while generally trying to distract me from my daily life and adventures. When I was eleven, I started writing a story. I mapped out a world. I created characters and assigned them duties in the mapped out world. A villain, a hero, a mysterious goddess. My imaginary world had war and peace, love and prejudiced hatred. I haven't stopped writing since then.

I write because I'm driven to do it. By driven I mean I have muses lined up to tell me their stories and let me tell you, some of these muses are really weird! No clue where half of them come from. Maybe other authors shook their heads when they knocked and said, "No way. Go visit that crazy Anastasia Rabiyah and tell her your sad tale. I don't write demons or demi-gods. Shoo." I'm pretty sure that's why they're here.

My biggest struggle when I write is focussing on one tale at a time. It's a necessary evil and the only way to really get to the end of anything, but a struggle nonetheless. So far, so good. I'm stickin' to my guns and telling that long line of misfit muses they have to wait their turn.

So, I'm curious fellow authors, why did you start writing? Is it an addiction for you or something you do when you feel like it? Do you have muses too? Is it just one or many? Do they wake you up in the middle of the night and pester you like they do me, or are they polite about the whole creation process?

If you've lost your muse, come join my little author group and tell us about it. If you've found your muse after a period of loss, tell us how you did it too. If you're a reader and you want a peek into how us crazy authors think, here's the link: Lost and Found Muses .
Want to find out more about me? Check out my website: Anastasia's Home on the Web.
posted by Unknown @ 10:26 PM

About Us
Forbidden Publications
Check us Out
Previous Post
Archives
Contests
Contests and Winners
Design by