Forbidden Authors
Melanie Baxter
Elizabeth Black
Elizabeth Bryars-Lamey
Darcy Campbell
Boz Corcoran
Jessica Damien
Katie Daniels
Christal Ervin
Jacques Gerard
Crymsyn Hart
B. H. Joyeaux
Talia Kelley
T.J. Killian
Taylor Kincaid
Kai Leah
Marina de Luca
Dee Marr
Sandra Marshall
Angel Martinez
Cassidy McKay
R.B. Michaels
Chris Neeley
Tara Nichols
Vic Ortloff
Lillith Payne
Anastasia Rabiyah
Tristan Rybeck
Cricket Sawyer
A.H. Scott
Dixie Spirt
Rachel D. Thompson
Shermaine Williams
Trinity Wolf
Kevin B. Wright
Find these and More
Friday, March 23, 2007
When the Lights Go Down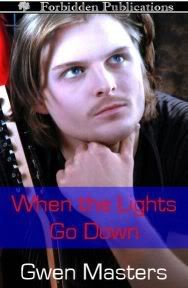 When the Lights Go Down is my first release from Forbidden Publications! It's the story of a guitar slinger with thousands of fans...the woman who waits in the wings...and the tender and wild things that happen when the crowd goes home and the lights go down.

It's short and sweet, priced right at 99 cents. What are you waiting for?

Here's an excerpt:

***

"Should we get all naughty out here or hide on the bus to do it?"

I laughed out loud. The sound bounced from the open ceiling and back among the amps. His voice joined mine in laughter, and it echoed through the sound holes of the guitars that waited on the edge of the stage. I saw motion from the corner of my eye, and both of us turned to see a security guard peeking around the corner. Seeing all was well, the uniformed officer tipped his hat with a knowing smile and disappeared again.

"The bus," Victor and I said in unison.

We dissolved into giggles as we ran from the stage, down the narrow stairs. The buses waited in the secure lot, and we rushed past another security guard who looked at us with curiosity but didn't question where we were going. There sat the long travel coach, flanked by a tractor-trailer full of equipment, and the bus used by the road crew. All the vehicles sat with air conditioning humming and engines purring. A few members of the road crew milled around, taking their time with their work.

Victor bounded onto the bus, and I was right behind him. The rush of cool air felt delicious against my sunburned skin. Victor swung the door closed and pressed down on the little button that locked us away from the rest of the world. He pulled the security shades, then his body was against mine as he lowered us both to the wide leather couch.

"In a hurry?" I teased. He answered by grinding against me.

***

To get When the Lights Go Down, click here!
posted by Gwen Masters @ 11:14 AM

About Us
Forbidden Publications
Check us Out
Previous Post
Archives
Contests
Contests and Winners
Design by