Forbidden Authors
Melanie Baxter
Elizabeth Black
Elizabeth Bryars-Lamey
Darcy Campbell
Boz Corcoran
Jessica Damien
Katie Daniels
Christal Ervin
Jacques Gerard
Crymsyn Hart
B. H. Joyeaux
Talia Kelley
T.J. Killian
Taylor Kincaid
Kai Leah
Marina de Luca
Dee Marr
Sandra Marshall
Angel Martinez
Cassidy McKay
R.B. Michaels
Chris Neeley
Tara Nichols
Vic Ortloff
Lillith Payne
Anastasia Rabiyah
Tristan Rybeck
Cricket Sawyer
A.H. Scott
Dixie Spirt
Rachel D. Thompson
Shermaine Williams
Trinity Wolf
Kevin B. Wright
Find these and More
Monday, June 30, 2008
It's My Party and You Are Invited!
Join The Muses Three, Anastasia Rabiyah, Brieanna Robertson and Dawné Dominique, at their Yahoo Group this July for a month long BIRTHDAY PARTY! Anastasia is celebrating her birthday all month with fat excerpts, silly questions and chances for READERS to win prize packs and free books. Come one, come all and join The Muses Three today! AUTHORS are invited to post designated excerpts on special days: July 1: Birthday Suit Excerpts. July 7: Naughty Excerpt Day. July 14: Paranormal Party. July 21: Laughter's Medicine. July 28: Ah-ha! Moments. For more information, join the group and check the Files! Click the three muses above or go here: http://groups.yahoo.com/group/TheMusesThree
posted by Unknown @ 5:21 PM

Sunday, June 29, 2008
Transformation Takes Place Soon
A single word or touch can change a life forever. This is the world of "Stroking Sahara". She never saw herself as the bird of paradise. But, when he came into her life, that all changed. This shy sparrow transformed into sexy swan....
Drink In Life!!!
posted by A.H. Scott @ 9:21 AM

Independence Is Coming - Let The Fireworks Begin!
Independence is coming!

Arriving just over a brilliant rainbow of tomorrow!!

Free yourself from the chains of conformity. Let the sun carry you beyond the horizon of what's unseen and onto a plateau of what could be possible. Sometimes life may throw us all a few curve balls. It's the person who takes the chance and stands up at bat that can swing for the fences. We may strike out a lot. (I know I have) But, you won't know if you're an MVP (Mega Valuable Person) if you don't step up to the plate of life's choices. (Look at me, I'm a published author. And, I wouldn't be writing on this blog, if I didn't take that fateful swing!!)

Flick of an eyelash, or twist of a curl around a manicured finger can bring a firefly into one's world. On the other hand, a smile from a muscular maestro can bring an orchestration of orgasmic flourish. Pair of players in passion's board game find themselves together for a brief encounter of ecstasy. Essence of a bond, doesn't need to be measured by years and years. But, by flirty laughter and joy filled tears.

Waves roll over sweet flesh, as "STROKING SAHARA" takes you away from the daily boredom of our existence. Roll the dice and take that excursion beyond rising gas prices, inflation, and all the other problems that engulf all of us.

Sway yourselves over to

http://www.forbiddenpublications.com

and begin the dance of desire.





Take The Reins Of Your Life & Embrace Your Destiny !!!!



A.H. Scott
posted by A.H. Scott @ 8:55 AM

Friday, June 27, 2008
Excitement is to put it mildly

Getting a contract from Forbidden is like dessert before the meal -

Inferno,

by Cricket Sawyer will be my first novel with Forbidden, but I certainly hope not my last. With the scorching weather in the midwest and wild fires raging in California - it seems a perfect time for

Inferno

to hit the air waves.
Arson, greed, jealousy, revenge are just a few of the blazes that are cooking high in the LaPlata Mountains of the four corners area of Colorado. An LP Gas blaze, a victim whose bloody footprints mark her trek through the snow-- Smokey Hamilton isn't sure just what he'll find as the first fire fighter on the scene -- the reader soon realizes it's not just a fire, and not to think, merely because the blaze is extinguished is no reason to believe the smoldering wild fire at Thunder Ridge Mobile Home Park is controlled. Irony = things aren't always what they seem at first glance and that proves to be fact not only at Thunder Ridge but in Summerville, Colorado as well.
Can't wait to be able to post an excerpt for you.
Thanks Rene for the invitation!


Cricket Sawyer

Labels: Colorado, Cricket Sawyer, Forbidden Publications, Inferno, LaPlata Mountians, Romantic Suspense, Wild Fire
posted by Billie Williams @ 1:24 PM

Tuesday, June 24, 2008
Two new contracts
I'm excited to announce that I just signed two new contracts with Forbidden last week. One is a paranormal romance novel titled

Avery and the Devil

.

Avery is desperate to save her dying boyfriend's life, even if that means selling her soul to the devil. However she doesn't realize how long he's watched her, hoping for his chance to spirit her away to the depths of Hades.

The other is a fantasy novella titled

Thief in the Night

. It's the first book in a planned four story series focusing on bounty hunters.

Lydia is a bounty hunter focused on revenge, trying to hunt down the man who murdered her parents. Her only clue is a playing card belonging to a member of the Thieves Guild. Drake will admit the card is his, but refuses any knowledge of the murders. Can Lydia trust a thief long enough for her to discover the truth?

Both are romance books although

Avery

contains some erotica. Look for both of these titles to come to Forbidden in the future!

Rachel D Thompson
http://www.racheldthompson.com

posted by Rachel D. Thompson @ 7:17 PM

Sunday, June 22, 2008
NO BAKE COOKIES FOR THE HOT
Summer months!

I just found a nifty recipe for cookies. Cookies you don't have to bake! I have my granddaughter here now for the summer months and besides making our macrame jewelry, will probably do up some cookies. I found this one and think it'll be perfect since we don't have to turn on the oven.



BLACK FOREST BITES



This one hails from the Black Forest region of Germany --

2 Cups semisweet chocolate chips
2 tablespoons vegetable shortening
1 cup miniature marshmallows
1/2 teaspoon almond extract
2/3 cup dried cherries or cranberries
2 cups crisp rice cereal

Lightly spray an 8x8x2-inch square baking pan with nonstick cooking spray, set aside.

In a medium saucepan place the chocolate chips and shortening. Stir over low heat until chips are melted and mixture is smooth. Remove from heat and stir in the marshmallows, almond extract, cherries, and cereal. Mix well!

Using a large square of wax paper, press and spread mixture into the prepared pan. Chill until set. Cut into 24 small squares. Store in covered containers between layers of wax paper.

Easy enough!


(This recipe is from No-Bake Cookies by Camilla V. Saulsbury ISBN 1-58182-504-8)



Collette Thomas
Click her to Enter My World


Coming soon to Forbidden Publications




Four Play




Appetite for Lust




Live the Fantasy




A Catering Affair





Available now - Hot Sex with a Stranger: A Case of Mistaken Identity
posted by Collette Thomas @ 1:21 PM

Thursday, June 19, 2008
The Virgin Widow Release Date
Hello,
I have great news to share.
The Virgin Widow has a release date of July 24, 2008.
I'm so excited, I'll be back when it gets closer with more information. For now, here's a quick tease of the story.

The Duke of Trahorn consented to marrying the widowed
Lady Elgar as a last resort. Meeting Serena stirs emotions
and tangible physical reactions long dead.
Can she change the course of destruction set for them?
posted by Lillith Payne @ 12:48 PM

Saturday, June 14, 2008
Criminal Caress is Here!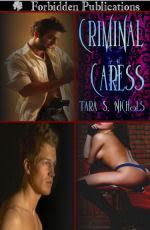 Dawne' Dominique has captured my characters with precision and skill. Thanks to her! My story is also listed on the Forbidden Publications site under coming Soon!
To View Criminal Caress

posted by Tara S Nichols @ 6:52 AM

Wednesday, June 11, 2008
Things Are Getting Hot Hot Hot

at FORBIDDEN PUBLICATIONS!

I am thrilled about this new cover for the newest release--

LIVE THE FANTASY!



Here's a sneak preview of the cover to give you an idea of the story. Think

Sex and the City

and for all those who are familiar with the characters -- Think Samantha!

And for ALL you out there who have already read

HOT SEX WITH A STRANGER

-- think Adrienne Bennett who also makes a reappearance in

FOUR PLAY

also COMING SOON to FORBIDDEN PUBLICATIONS.

Yes, things are really getting

HOT HOT HOT

at

Forbidden Publications

-- Stay tune for the dates of these releases by

Collette Thomas!



LIVE THE FANTASY is actually a trilogy of sexy hot stories that will celebrate some of those important occasions in our lives -

Birthdays!

Anniversaries!

St. Valentines Day!





Yep - a little something for everyone!






Let me know how you like this cover and leave a comment.





Thanks!



Collette Thomas


Enter my world - click here




posted by Collette Thomas @ 4:31 AM

Friday, June 06, 2008
Fallen Angel Reviews: "When the Lights Go Down"
"When the Lights Go Down" was my first release from Forbidden Publications. It's a short and sweet story, and Fallen Angel Reviews loved it!

Here's part of what they had to say:


Usually I do not like reading in the first person but I must say that with this short story, using the first person gave the story the right amount of credence and feeling. The sex is quite amazing. The couple comes together with steamy, passionate sex with a very loving touch. The story is short but I found it was quite touching.

If you want to read more, click here.

To get the book for yourself, go here.

Labels: Gwen Masters, review, When the Lights Go Down
posted by Gwen Masters @ 9:23 AM

Tuesday, June 03, 2008
Coming Soon Page at FP
I just finished browsing through and what a selection! Of course I'm doing the Snoopy Dance since three stories of mine will be available to FP's readers!

I just approved the cover for

FOUR PLAY,

and wowsee, I think for me this is one of the best so far!

For anyone who doesn't want to miss out I'd suggest ordering

Hot Sex with A Stranger

and become acquainted with my characters who come back and do their thing in FOUR PLAY!

In the meantime go check out the Coming Soon page. Based on what I'm seeing this is going to be one HOT HOT summer!

Collette Thomas
Enter My World


posted by Collette Thomas @ 3:17 PM

Book Signing #2

Booksigning number two went a lot better than the first one. Now that I understand what to do and am getting more comfortable speaking to folks, it's a lot of fun. It helps to have a bookcover with a nude cowboy on it to draw eyes. (Thanks Sebastian, you're the best cover boy ever!) I handed out another 58 Bookworm Bags to interested romance readers. If you've never heard of Bookworm Bags, check out their website at: Bookwormbags.com .

Shahzar was the popular book this evening although Cowboys and Naughty Nine got some curious readers to scope out the back blurbs. I think they may have been embarrassed to buy them in front of their parents!

Thank you to everyone who stopped by to visit with me. Thank you also to all the authors who sent in their goodies for the BWB bags!

Much love,
Anastasia Rabiyah
www.RabiyahBooks.com
posted by Unknown @ 12:20 AM

About Us
Forbidden Publications
Check us Out
Previous Post
Archives
Contests
Contests and Winners
Design by