Forbidden Authors
Melanie Baxter
Elizabeth Black
Elizabeth Bryars-Lamey
Darcy Campbell
Boz Corcoran
Jessica Damien
Katie Daniels
Christal Ervin
Jacques Gerard
Crymsyn Hart
B. H. Joyeaux
Talia Kelley
T.J. Killian
Taylor Kincaid
Kai Leah
Marina de Luca
Dee Marr
Sandra Marshall
Angel Martinez
Cassidy McKay
R.B. Michaels
Chris Neeley
Tara Nichols
Vic Ortloff
Lillith Payne
Anastasia Rabiyah
Tristan Rybeck
Cricket Sawyer
A.H. Scott
Dixie Spirt
Rachel D. Thompson
Shermaine Williams
Trinity Wolf
Kevin B. Wright
Find these and More
Friday, March 23, 2007
When the Lights Go Down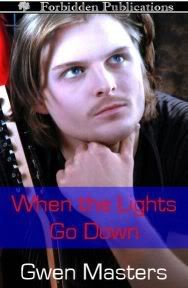 When the Lights Go Down is my first release from Forbidden Publications! It's the story of a guitar slinger with thousands of fans...the woman who waits in the wings...and the tender and wild things that happen when the crowd goes home and the lights go down.

It's short and sweet, priced right at 99 cents. What are you waiting for?

Here's an excerpt:

***

"Should we get all naughty out here or hide on the bus to do it?"

I laughed out loud. The sound bounced from the open ceiling and back among the amps. His voice joined mine in laughter, and it echoed through the sound holes of the guitars that waited on the edge of the stage. I saw motion from the corner of my eye, and both of us turned to see a security guard peeking around the corner. Seeing all was well, the uniformed officer tipped his hat with a knowing smile and disappeared again.

"The bus," Victor and I said in unison.

We dissolved into giggles as we ran from the stage, down the narrow stairs. The buses waited in the secure lot, and we rushed past another security guard who looked at us with curiosity but didn't question where we were going. There sat the long travel coach, flanked by a tractor-trailer full of equipment, and the bus used by the road crew. All the vehicles sat with air conditioning humming and engines purring. A few members of the road crew milled around, taking their time with their work.

Victor bounded onto the bus, and I was right behind him. The rush of cool air felt delicious against my sunburned skin. Victor swung the door closed and pressed down on the little button that locked us away from the rest of the world. He pulled the security shades, then his body was against mine as he lowered us both to the wide leather couch.

"In a hurry?" I teased. He answered by grinding against me.

***

To get When the Lights Go Down, click here!
posted by Gwen Masters @ 11:14 AM

Tuesday, March 20, 2007
The Touch of Trinity

Excerpt:

The morning came in brightly through her windows. She rolled over and lazily looked at the clock. The more she focused, the more she panicked.
"No…no, it can't be nine yet!" Davin screamed out loud. "You didn't set your alarm, you moron."
This little outburst sent Jenna Kitty flying off the bed in a hurry. Davin kicked the blanket off and dove for the phone. She had the station's number on speed dial, but she dialed it anyway.
"Good Morning, this is KXNT. Your best choice for classic rock and I'm Peggy, how can I help you?"
"Peggy…" Davin all but screamed.
"Miss Ramberg, how are you feeling today? Better I hope," Peggy replied with sunshine in her voice.
God Peggy, you're a good candidate for phone sex, Davin thought as she tried to regain her composure. "Is Jon there? I mean is he pissed off I'm not."
"Yes…I mean…he is here, but no, he is not angry. In fact, he's in a great mood," Peggy replied.
"He said he saw you here last night. When you weren't here at eight, he told me to give you until ten, then I was supposed to give you a call. And you should see who is here, Miss Ramberg. I think I'm in love."
Davin closed her eyes, and then she remembered. Jon wanted her there to meet the new DJ. She fell back into a laying position.
"Oh my God…"she said.
"You're telling me, ouch, and the accent is sexier then hell," Peggy replied, forgetting who she was talking to.
A thought hit her and she said it out loud, "What color are his eyes?"
"They're green, and emerald green." Peggy said. "Oh…I wish I wasn't engaged."
"Peg, tell Jon I'll be there as soon as possible."
"Peg? You have never called me Peg before, Miss. Ramberg," Peggy replied.
"And it's Davin, Peg."
"Ok…Davin, we will see you when you get here. You better come soon…I don't know how long this show is going to be."
posted by Laurlee Harbig @ 10:56 AM

Saturday, March 17, 2007
Re-Release of Love Bite by Carol McKenzie
Chaste Rayna Craig, a beautiful, black woman, unwittingly attracts two vampires. One is handsome, white hunk named Mike who is also her friend's father. Aggressive Ben Grant wants her, too. Rayna doesn't know it, but he is a vampire, and he is evil. Both vampires want her love and her blood.
"This is a great story and will certainly hold the reader's attention. It's not very long so most readers will tear through it in one sitting. Even though the main characters are from different races, the story does not focus on this aspect, but on the relationship between them. The love scenes are totally intense and readers will have no problem ripping through the pages."
4 Hearts ~ Angel Brewer, The Romance Studio
"If you're looking for something that's quick but spicy, then look no further than LOVE BITE. It's a scrumptious little treat."
Sinclair Reid and Terrie Figueroa, Romance Reviews Today
"Ms. McKenzie presents new and interesting ways of looking at and explaining vampires and the lore that surrounds them, so she gets bonus points! It's very easy to stay within the boundaries and follow the norms set for vampire romances - which are wonderful - but she has found a way to bring something new to the table and I love it." 5 angels, Brandy at Fallen Angel Reviews.
"Carol McKenzie has written a terrifically hot tale of a May/December relationship with a few unique twists thrown in for good measure. Love Bite is a keeper!" Susan White, Coffee Time Romance
posted by Anonymous @ 10:50 AM

Friday, March 16, 2007
Weathering the Storm
Weathering the Storm is here!! I'm sooo very excited about this story. I hope everyone loves Stephanie and Luc as much as I do! They were really fun characters to write. To make things even more fun, I have TWO contests going on at my blog. Go to
http://kelleyv.blogspot.com
for details. You can win either a 25 dollar gift card for Barnes and Noble or Bath and Body works as well as a chance to win a free download of Weathering the Storm...
Here's the blurb
She's tough, stubborn, and hard to get along withHe's a cocky, flirtatious, ladies man.Together they're combustible in more ways than one.Tomboy carpenter Stephanie Bridges hates going to the hardware store. Scratch that, she loves the store, but despised the owner, her ex-boyfriend, Lucas Carr. The man angers her to no end, yet her hormones don't get it. She still wants him. Badly.Lucas Carr may be a flirt, but there is only one woman who holds his heart, Stephanie. Too bad she's too stubborn to really hear what he so often tries to say.Today, Stephanie's hormones aren't the only thing that's raging. There is a monster storm coming into town. The storm forces Luc and Stephanie to take shelter in his hardware store. Being trapped in the store, they have plenty of time to enjoy each others company. That is if they can stop fighting long enough to give in to the desire still between them.
hugs
Kelley Vitollo
posted by Kelley Nyrae @ 2:25 PM

Great reviews for Drinyian by Ann Cory!
Dare to deny the God of Seduction?
Artist Jaden has always been fascinated with drawing portraits of Gods. Their power, masculinity, and history fuel her muse. One God in particular, Drinyian, the God of seduction, captures her fancy. When she sketches his picture with such realism, Jaden swears she can feel him. Darkness comes and she awakens in a palace with Drinyian himself asking her to dance.
Drinyian has been waiting years for Jaden to return, and asks her to be his bride. He promises her a life of pleasure and happiness, in the hope that someday she will remember they shared a lifetime before.
Jaden must choose between a world she was once part of but has forgotten, and a world she would soon forget.
REVIEWS
5 Lips from TwoLips Reviews
Driniyan, as always, is a masterpiece from the marvelous Ann Cory...blend of Gothic, medieval, and modern with touches of BDSM and love lost, found, and lost again will surely appeal to any reader seeking a touching and revealing story.~Reviewer FrostRead full review
4.5 Ribbons from Romance Junkies
"...delightful read from an author who excels at creating romantic and sensual stories-usually with a spicy edge. DRINYIAN's imagery is presented in such a way to make you forget you are reading."Reviewer - Zoe Knighton
posted by Ann Cory @ 10:36 AM

Thursday, March 15, 2007
Marissa's NEW Covers
WOO HOO!! I got more new covers... LOL. DJ did an outrageous job!! There are still two more to be posted on the site, but I have to wait till they have the FP banner before I can show them off. Would you like some blurbs to go with these covers? Whew, I was hoping you would say yes... LOL.
ACCIDENTS HAPPEN - When Marti's best friend suddenly dies, a series of "accidental deaths" rise from the ashes. Jen was an Investigative Reporter sticking her nose where it didn't belong, but now Marti has to finish what her friend started. But Jen didn't have the support that Marti had.
Jorge was an informant on the inside of the crime ring, his ear low to the ground. He didn't ask for much in exchange for information, just a quick tumble or two.
Eddie was still on the force and he was a great friend besides who liked to raid her fridge and whatever else happened to be laying around, including Marti herself. But as the clues start building, how does Marti console herself with her two men? One is supposed to be the bad guy, and the other is supposed to be the hero. Where will Marti go when Accidents Happen?
BLACK WIDOW 3 - Despite the nightmare that continues to haunt her, Reyna gets another assignment from Viper. Identical twins Greg and Ken have been mischievous devils since they were in grade school. As they got older the mischief became more sinister. They devised a fool proof plan to get laid. One would talk to the hot chic at the bar while the other would slip something in her drink, then they would take her to their room and have their way with her. However, they fucked with the wrong girl one night and now daddy wants BW to take his revenge.
ACE IN THE HOLE - Peter Ivery is a smuggler and supplier of drugs and alcohol. His cover is a small golf shop and mini-golf range located in a small town of central Alabama. He's been getting careless and greedy. His ex-fiancé (Jackie Brent) sells him out to the government because he refuses to pay his child support, but she feels they are too slow and would not handle it correctly (she would love to see him dead) so she also places a call to 'Lone Wolf'. Marisol and Michael's paths cross once again, "we've got to stop meeting like this." Oh how the sparks will fly!!
posted by Marissa de A'mor @ 7:54 AM

Wednesday, March 14, 2007
I wanted to come share that my four book wolf shifter series has been contracted by Forbidden! Yay!

Okay, okay... I have contracts for two, but Rene liked the series idea, so unless they turn all Jekyll and Hyde on me, all of 'em are going to be published with FP. :D

I don't have much to share but I do have blurbs for the individual books. Wanna see? Good! LOL I like to share.. *wink*

Here they are:



Four Stories of the Aiza family.

Book One Trusting Delilah: Roman Aiza is the second son born into a set of quadruplets. All four share a unique family secret: they are the last known bloodline of an ancient family, one that gives them the ability to shapeshift at will into the form of a wolf.

Roman has his hands full when he follows a trespasser into the depths of the Cassel residence, on the night of Cindy Cassel's eighteenth birthday party. The trespasser ends up being a woman who shows no fear and tells him absolutely nothing before she manages to walk right out of his hands.

After a week of trying to uncover who the mysterious woman could be, Cindy is kidnapped and he must trust the very woman he has no reason to trust at all.

Book Two A Trust Earned: Selene Aiza is the youngest daughter. A very compassionate woman by nature, and fiercely protective of those she cares for. She is a renowned doctor but prefers the wild country of western Oregon and the secluded hospital where she can help the people who truly need her assistance. And in the depths of those wooded wilds she can keep her secrets well hidden.

She is safe until the man she encounters on the trails of the Sisters in the Oregon wilderness returns to the small town of Bend as the hospital's first choice as co-administrator. Her secrets and her very life fall into jeopardy, and only he can save her. He could also destroy her.

Book Three Pending Title: Brooke has another secret, beyond the family's. She has an ability to grasp the arcane and with training from their beloved and eccentric aunt, learned to control this talent. When her brother-in-law arrives for an unexpected visit, the life and love she thought she would be denied rears up and forces reality into a glaring light.

Through his devotion, she will find her greatest strength, and fight the battle of her life. A sacrifice of the heart is the only way to save the entire family.

Book Four Pending Title: Morgan is the oldest. He would kill or die for the pack, yet when his fate comes to call, she is even less willing than he.

Trouble is hounding him, and evil is stalking her. From the gates of the Renaissance Faire where Morgan is granted an honorable knighthood, to the very doors of the family they are stalked by an unknown danger. To survive, and to acknowledge the deepest commitment either have known, they are going to have to face the ultimate good versus evil struggle. Together.

I can tell you that these fall into the sweet to sensual levels and are light suspense. The third book has a light magic touch. Couldn't have them ALL doing the same thing... How Borr-

ring

. LOL

I hope you enjoy them! I enjoyed writing them for you. :)

For more information, be sure to stop by my site. I update about once a week with info, and snippets.
posted by Diana Castilleja @ 8:56 PM

About Us
Forbidden Publications
Check us Out
Previous Post
Archives
Contests
Contests and Winners
Design by